Professional Pet Door Installation Services in Boise, Idaho and surrounding areas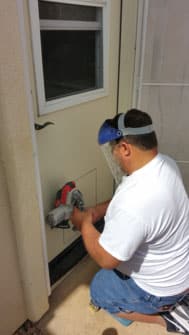 Are you tired of letting your Dog or Cat  in and out of the house all day long?  At American Pet Doors, we not only offer quality, 100% Made In Boise, Idaho USA pet doors, but we also offer pet door and dog door installation services in Boise and all surrounding areas to make your life easier and your pet's life more comfortable.
Why Choose Us for Pet Door Installation?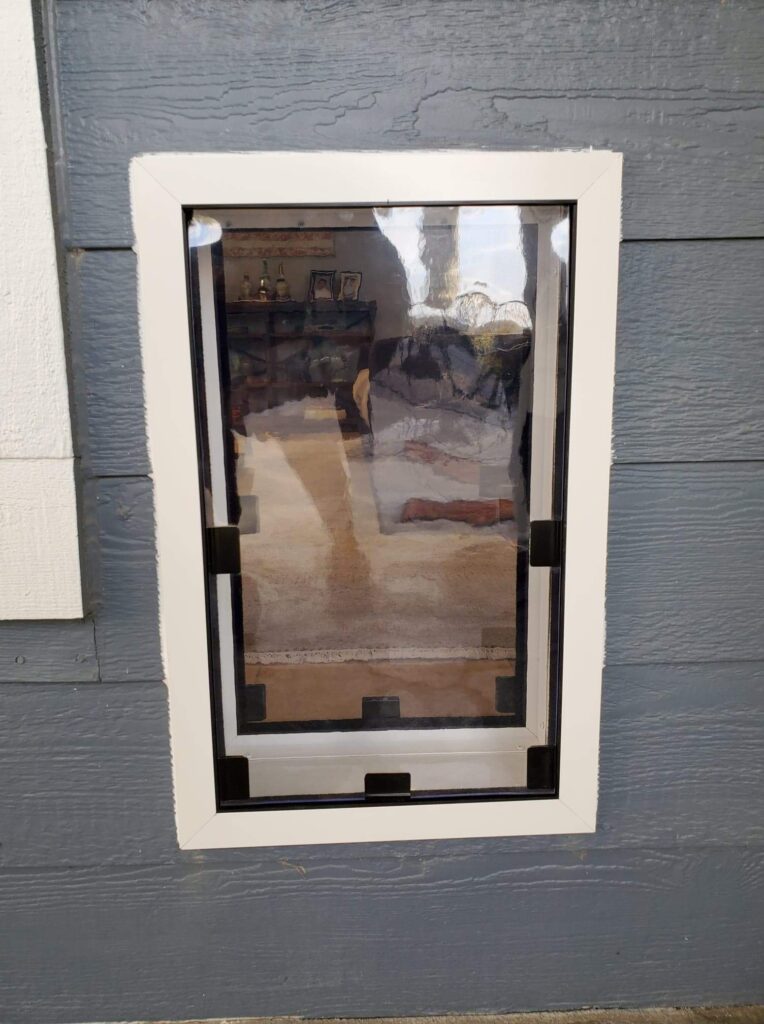 At American Pet Doors, we take pride in providing high-quality pet door installation services for our Boise Idaho made pet doors. 
Here are some reasons why we stand out from the competition:
Expert Installation:  With over 30 years experience making high quality pet doors and installing pet doors of all sizes in all types in doors, walls, french doors and glass, you can rest assured you will receive a professional pet door that will last and will be installed correctly.
Quality Materials:  We only use high-quality, durable materials to ensure your pet door lasts for years to come.  We also offer single flap and double flap insulated pet doors to help maintain your home's temperature and save on energy bills.
Customized Solutions:  We understand that every home and pet is unique.  That's why we offer customized pet door solutions that fit your specific situation, whether you need a pet door for a door, pet door for a wall, pet door for a french door or a pet door for a glass door. With both customized and standard pet door options, we have a solution that will work for you.
Competitive Pricing:  We offer competitive pricing on all of our pet doors and pet door installation services in Boise, Idaho, without sacrificing quality or customer service. Order direct from local manufacturer not a dealer and save.
All of our Thermo Flap pet doors are made right here in Boise, Idaho!  No matter what type of pet door you choose, we'll work with you to ensure a perfect fit and seamless installation.  Contact us for Pet Door Installation in Boise, Eagle, Meridian, Kuna, Nampa, Caldwell, Payette, Emmett, Star, Middleton, Melba, Marsing, Homedale, Mountain Home.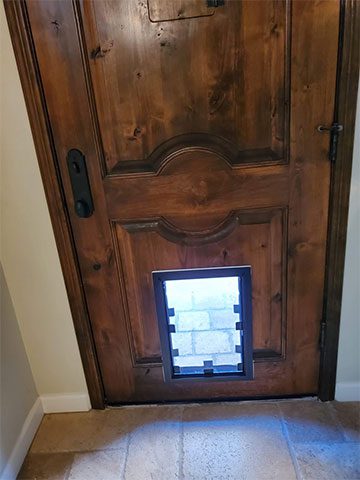 One of our most popular options. Click here to shop our Pet Door In Doors option. A pet door installed in a door has many advantages, such as letting animals easily enter and exit the home, giving them more exercise, and minimizing the amount of time pet owners must spend opening and closing doors. Also, it can give pet owners more flexibility and convenience and enhance the general health and wellbeing of their pets.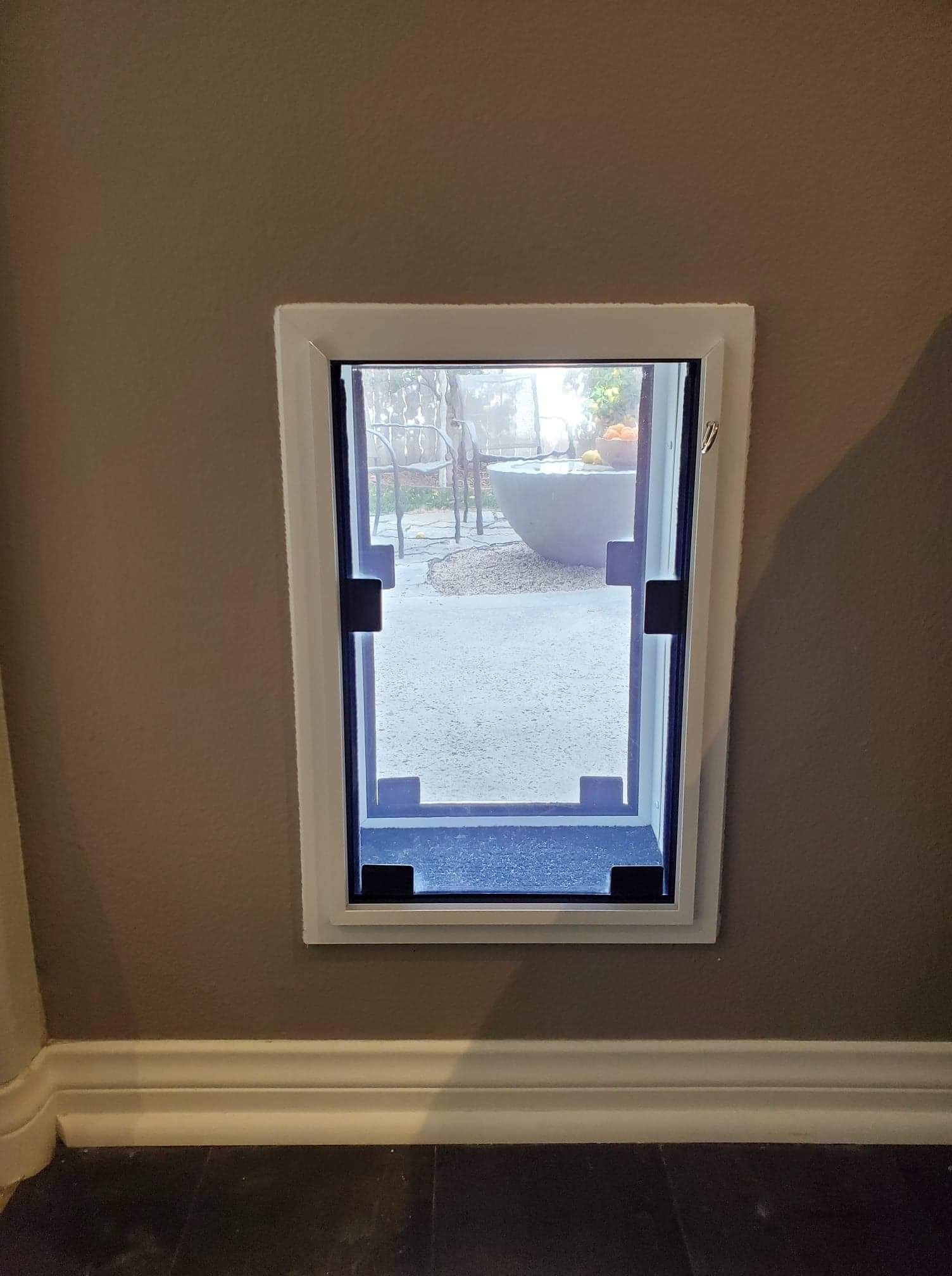 Our most popular option. Click here to shop our Pet Door In Walls option. A pet door installed in a wall has many advantages, including allowing pets to enter a room or the outdoors with ease and enhancing privacy and security for both pets and their owners. Also, it can lessen the noise and potential door damage brought on by pets scratching or pawing at doors to get in or out.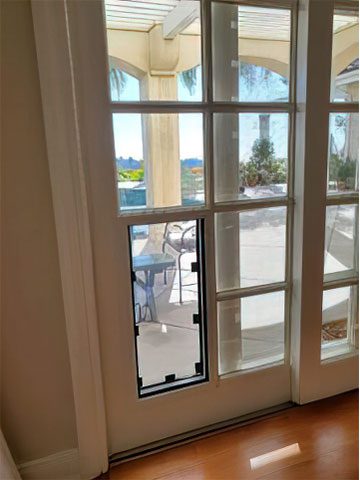 This option allows you to retain your beautiful french door while allowing your pet easy access in and out of the house. Click here to shop our Pet Door In French Door options.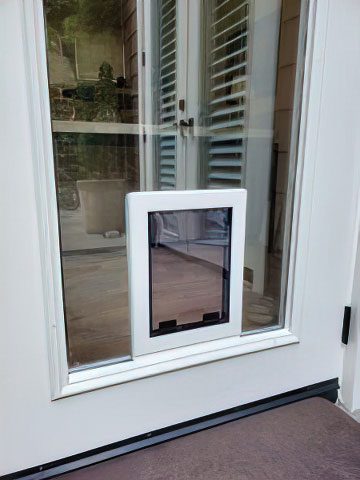 This option is best for owners of small pets with glass doors. Click here to shop our Pet Doors For Glass options.
Boise, Idaho Pet Door Installation
If you're ready to give your pet the freedom to come and go as they please, contact American Pet Doors of Idaho for sales and pet door installation services. Our installation services offer only high-quality workmanship, excellent customer service, and competitive pricing.